UPDATE March 1st, 2021
With Simcoe County now in the "Grey-Lockdown" zone once again, we have added restrictions effective immediately. The good news is that the store remains open under the revised Ontario lockdown guidelines. It's just that we have to further reduce capacity. The maximum number of people allowed in the store simultaneously is now 5 persons. It is likely that you may be asked to leave if you have exceeded our current 15 minute shopping time limit. Check store hours for in-store shopping here.
UPDATE February 16th, 2021
Store hours have changed again due to the mall's decision to open longer, effective immediately. Check hours for in-store shopping here.
UPDATE February 14th, 2021
As of Tuesday February 16th, Simcoe County is operating in the Ontario COVID-19 Red Zone. This means that retail stores, including Doug Laurie Sports, can OPEN for in-store shopping. However, there are some restrictions. There is a limit of 10 persons in the store at any one time, and you must wear a face covering (mask) that covers your mouth and nose. This includes staff. Also, we have implemented a 15 minute maximum shopping time in the store.
Additionally, this week the Kozlov Centre will be operating on reduced hours, THIS MEANS THAT DURING CERTAIN DAYS/HOURS DOUG LAURIE SPORTS WILL BE OPEN FOR IN-STORE SHOPPING, AND DURING CERTAIN DAYS/HOURS CURBSIDE PICK-UP WILL BE AVAILABLE. CURBSIDE PICK-UP AND IN-STORE SHOPPING WILL NOT OVERLAP -ONLY ONE METHOD WILL BE IN USE AT A TIME.
Please check our hours of operation before you come in. They will always be updated on the website and may change as the mall and government regulations change. Check hours of operation here.
We encourage you to phone-in your order for Hobby Supplies or Unopened Boxes  by calling 705-503-2800 in advance of your visit. We will then have your order ready for pick-up upon your arrival. If you also pay in advance by Interac e-Transfer (call us for details) your pick-up will be contactless.
Thank you for your understanding during this continuing period of uncertainty.
UPDATE December 28th, 2020
All non-essential stores in Ontario including our Kozlov store are now closed for in-store shopping until at least January 23rd, 2021. Curbside pick-up is available at the rear of the store (west side parking lot south of Metro.
UPDATE November 21st, 2020
Face masks continue to be required and all in-store safety protocols are still in place during what is now Level Orange - Restrict in Simcoe County, Ontario. It is everyone's responsibility to stop the spread of Covid-19.
UPDATE August 5th, 2020
Friday hours are now back to normal! Masks and all safety protocols are still in place during what is now Phase 3 of Covid-19 recovery in Simcoe County.
UPDATE JULY 13th, 2020
Effective immediately, masks are now REQUIRED while in the Koxlov store. This is per County of Simcoe directives. All other protocols to ensure customer and staff safety remain in place.
UPDATE JUNE 12th, 2020 8am
WELCOME! Our Kozlov store opens today at 10am.
Your Safety is Priority One!
• Store capacity is limited to 10 persons.
• Maintain 2 meter (6 foot) distancing between people unless you reside together.
• Before handling any merchandise you MUST apply hand sanitizer. Sanitizer is available at the check-out counter and at the singles viewing area.
• We request use of face masks if you will be viewing products from close-up. New facemasks are available from us for $2.00 each.
• Please follow all directions of store staff. We reserve the right to prohibit entry to the store if we have reason to believe that you are unwell. General loitering in the store is not permitted.
THANK YOU!
UPDATE JUNE 9th, 2020 10am
Our Kozlov Centre Store is opening Friday June 12th at 10am !!!
After nearly 3 months of being closed due to Covid-19 we are thrilled to throw open the gate and see our customers again!
We will have more details soon about special procedures such as social distancing to keep you safe. In the meantime check out Wayne's (REVISED) announcement video here.
UPDATE MAY 20th, 2020 10am
Our physical store in the Kozlov Centre continues to be closed for in-store shopping. We hope to have clarity on a store opening date soon, subject to a full Kozlov Centre mall opening. Due to the success of Curbside Pick-up we are now offering it on an additional day!
For additional information on Curbside Pick-up, please refer to the April 19th post below.
UPDATE APRIL 19th, 2020 11am
Our physical store in the Kozlov Centre continues to be closed for in-store shopping.
Please continue to follow the Curbside Pick-Up procedures as listed in the April 16th Update below.
We are now able to accept credit and debit cards, and if necessary, cash, at the Curbside Pick-up Zone, in addition to the pre-payment methods of PayPal and EFT.
Watch Wayne Introduce Curbside Pick-up in this YouTube Video AND THIS UPDATED VIDEO

UPDATE APRIL 16th, 2020 3pm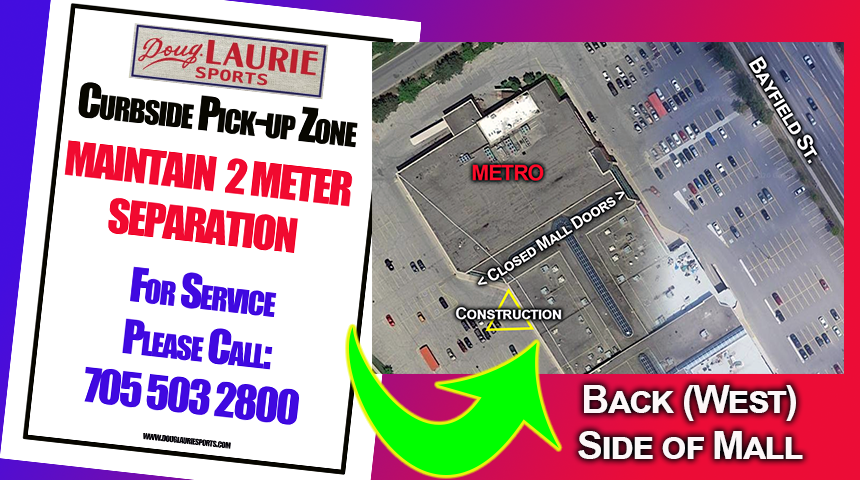 Good news, friends! Doug Laurie Sports will be available for curbside pickup starting on Thursday, April 16th from 1pm-7pm and Friday April 17th from 1pm to 7pm. PLEASE FOLLOW THE PROCESS BELOW.
We are still working on our weekly schedule at this point, but we have our first restock in a month arriving Wednesday. It includes plenty of this year's favourites, including Series I & II Hobby boxes, Artifacts, Trilogy, SP Game Used and much more! We also still have plenty of supplies on hand including toploaders, one-touches and cardboard storage boxes. 
Here's how the process will work:
1) You will call or email us to place an order. We will be accepting PayPal, EFT or cash, and we possibly will have the ability to take credit cards on site (will be announced if available).
2) We put your order together and will contact you to set a time for pick up.
3) During the arranged pick-up time slot, you approach the curbside pick-up zone while REMAINING 2 METERS BACK. Call the number that is indicated on the door sign. Note: If the sign is not up, we are not available in-store. Please refer to our website for any changes to pick-up days and times.
4) Once you have reached us via your phone, if you are paying by cash (otherwise your order will be pre-paid, in that case skip to step 6), we will place a cash box on the table at the pick-up zone and will move back. (we disinfect and empty this after every use). 
5) Next, place sufficient cash in the cashbox, THEN STEP BACK BY TWO METERS. We will retrieve your cash.
6) We will then place your order and change (if any) and receipt in a bag on the table.
7) Once we have stepped back, you should immediately pick up your order from the table.
8) Head home happy!
PLEASE remember - we CANNOT let you into the store to look around, hang out, etc. This is not only because of governmental restrictions, but also for your safety and ours.
We are also working on a new wrinkle featuring YouTube, some live action and a chance for all of us to hang out, so stay tuned!
We appreciate your patience as we work out the kinks in this system and we can't wait to see you again!
Find out more, including a list of available new unopened box arrivals right here!
UPDATE MARCH 24th, 2020 8pm
The Kozlov store is now closed for an indefinite period of time due to COVID-19 abatement measures as mandated by the Province of Ontario. We hope to have more information on future plans soon. Please refer to this website, which will be updated regularly.
Here is a brief video - click here