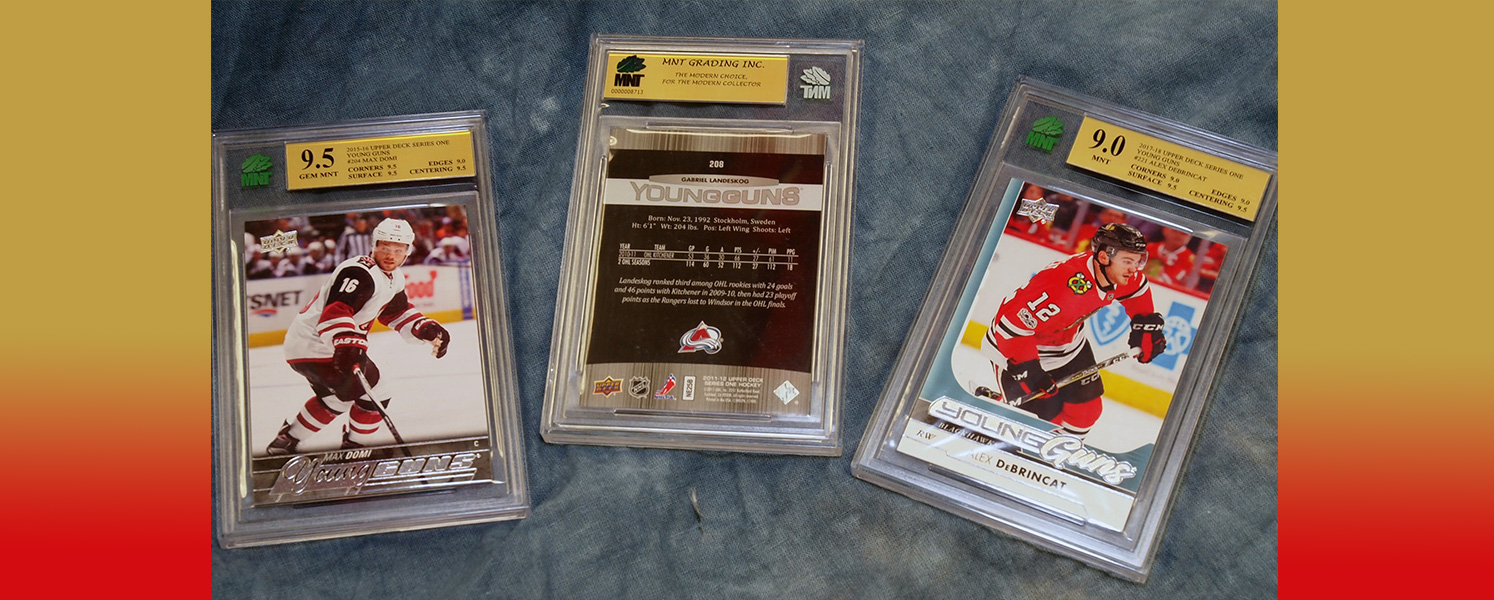 UPDATE MAY 18th
All 6 day submissions have now been processed and are slabbed and are at Doug Laurie Sports! We are doing Quality Control on them now, and will be communicating pick-up details shortly.
UPDATE MARCH 30
All submissions are safely at the MNT grading facility and are standing by for processing. We will post updates here as any progress information becomes available.
UPDATE MARCH 27
This month's group grading submission is now closed and all cards are enroute to MNT for processing.
The next group submission will be announced at a future date. Stay tuned for updates to be published on this page.
UPDATE MARCH 23
Here is an example showing how to fill out the PDF order form for different types of cards.

-------------------------------------------------------------------------
UPDATE MARCH 20
Folks, some bad news - we have just been informed by MNT Grading that due to COVID issues, they are running 2-4 weeks behind schedule. This means our scheduled 2-week turnaround is more likely to be 4-6 weeks, and our 90-day turnaround will be 105-120 days.
We will make arrangements to get the cards as soon as they are available for pickup to expedite their return to you, but for anyone who wishes to change their order to 90-day service or cancel it in its entirety, please contact Wayne via Facebook or at the store.
----------------------------------------------------------------------------------------------------------------
Doug Laurie Sports is happy to again be offering grading submissions through our friends at MNT Grading in Guelph!
We are putting together a group submission with a deadline of Saturday, March 27, at 4 p.m., and we will hand-deliver the cards to MNT sometime during the following week. That's right, your cards do NOT go through the postal or parcel services - we drop them off and pick them up ourselves so there is no chance of any issue with the package getting lost or damaged! We do this will all items you bring in, whether for grading, framing or jersey lettering - your items are as important to us as they are to you!
We are offering two tiers of services this time around, with pricing as follows:
* 6-day service is $25 per card + tax and includes all delivery charges, etc.
* 90-day service is $14 per card + tax and includes all delivery charges, etc.
You'd have to submit 25+ cards directly by yourself at either level to match those prices, and you'd still be responsible for the cost of delivery! Let us handle all that AND make sure your cards are safe! MNT will accept almost all sports and non-sports cards for grading, including collectible card games such as Pokemon, Yu-Gi-Oh!, Magic: The Gathering and many more. MNT has one of the nicest slabs in the business, provides four subgrades on all cards and is becoming better and better known as a leader in the grading industry! For more information on MNT Grading, visit their website at https://mntgrading.com or contact Wayne via email at wfrazer@douglauriesports.com, or just pop by the store!
You can download a submission form here. Please print and complete it, and bring it into the store along with your card(s) We will also have submission forms on hand in the store.

Why grade your cards? The four main reasons are:
• Ease of Sale – It's simply much easier to sell a card when it has been accessed by a third party. This means there is no question of condition on the buyer's end, especially when selling online.
• Authenticity – With many cards (especially with vintage and trading card game issues), there are definitely counterfeits floating around the market. Many times the first question asked about a Gretzky or Orr rookie card is, "Is it real?" Having your cards graded removes any doubt.
• Protection – Having a card encapsulated means not having to worry about it getting damaged. MNT Grading has one of the finest (and sharpest-looking) slabs in the business.
• Maximizing value – Having ungraded cards means you might be leaving money on the table if you decide to sell them. A 9.5 or a 10 will sell for multiple times the price of the same raw card.