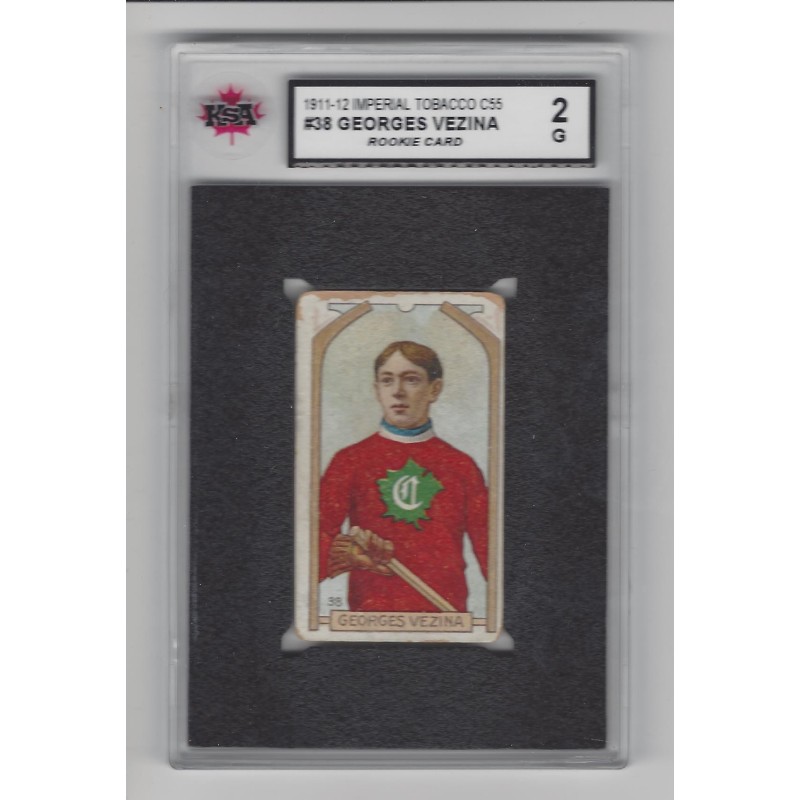  
1911-12 C55 COMPLETE SET W/GRADED GEORGES VEZINA RC

Website is security enabled for customer reassurance.

Choose pick-up in store or reliable Canada Post delivery.

Returns are handled in store. Please contact us for details.

Please choose your currency - USD$ or CAD$
This is an almost-unheard of complete 45-card set of 1911 C55s including a graded Georges Vezina rookie. The consigner of this set acquired as a little boy in 1984 and has kept it together in his collection until now, when you have a chance to acquire it!
Cards range from very rough up to a possible 3 on a few, but overall this set we estimate this set would average a 1.5. Please contact us for shipping information and with any other questions.
1 Paddy Moran - Quebec Bulldogs
2 Joe Hall - Quebec Bulldogs RC
3 Barney Holden - Quebec Bulldogs
4 Joe Malone - Quebec Bulldogs RC
5 Ed Oatman - Quebec Bulldogs RC
6 Tom Dunderdale - Quebec Bulldogs
7 Ken Mallen - Quebec Bulldogs RC
8 Jack Macdonald - Ottawa Senators RC
9 Fred Lake - Ottawa Senators
10 Albert Kerr - Ottawa Senators RC
11 Marty Walsh - Ottawa Senators
12 Hamby Shore - Ottawa Senators RC
13 Alex Currie - Ottawa Senators RC
14 Bruce Ridpath - Ottawa Senators
15 Bruce Stuart - Ottawa Senators
16 Percy Lesueur - Ottawa Senators
17 Jack Darragh - Ottawa Senators RC
18 Steve Vair - Renfrew Creamery Kings RC
19 Don Smith - Renfrew Creamery Kings RC
20 Cyclone Taylor - Renfrew Creamery Kings
21 Bert Lindsay - Renfrew Creamery Kings RC
22 Larry Gilmour - Renfrew Creamery Kings RC
23 Bobby Rowe - Renfrew Creamery Kings RC
24 Sprague Cleghorn - Renfrew Creamery Kings RC
25 Odie Cleghorn - Renfrew Creamery Kings RC
26 Skein Ronan - Renfrew Creamery Kings RC
27 Walter Smaill - Montreal Wanderers RC (Hip)
28 Ernie Johnson - Montreal Wanderers
29 Jack Marshall - Montreal Wanderers
30 Harry Hyland - Montreal Wanderers
31 Arthur Ross - Montreal Wanderers
32 Riley Hern - Montreal Wanderers
33 Gordon Roberts - Montreal Wanderers
34 F. Glass - Montreal Wanderers
35 Ernest Russell - Montreal Wanderers
36 James Gardiner - Montreal Wanderers RC
37 Arthur Bernier - Montreal Canadiens
38 Georges Vezina - Montreal Canadiens RC
39 G. (Henri) Dallaire - Montreal Canadiens RC
40 R. (Rocket) Power - Montreal Canadiens RC
41 Didier Pitre - Montreal Canadiens
42 E.D. "Newsy" Lalonde - Montreal Canadiens
43 Eugene Payan - Montreal Canadiens RC
44 George Poulin - Montreal Canadiens RC
45 Jack Laviolette - Montreal Canadiens
Data sheet
Sport or Theme

Hockey

Team

National Hockey League (NHL)