Curated Products
These unique and desirable products have been personally selected by Wayne Frazer, owner of Doug Laurie Sports. Please contact Wayne for additional information! You can purchase any one of these products by adding them to your Shopping Cart! Payment can be made securely online via PayPal or when you pick-up in store by cash or card. Low cost insured shipping is also available.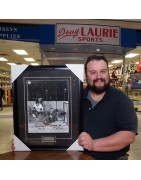 Subcategories
These 25 works were created by noted sports artist Chris Henderson and are based on the legendary C55 design. Each piece is 9x12 and is the exact art appearing in the Vintage Base Card Set. For more information contact Wayne Frazer

To get in on this once-in-a-generation opportunity you can claim one or more envelope draw positions. Simply add your draw number selection product to the shopping cart on this website and check-out. You must supply all information including your full name, email address and mobile phone number. NOTE: THIS IS A BLIND DRAW. Every purchaser will receive one of the 25 artworks by random selection. Artworks will be available for pick-up at Doug Laurie Sports (or optional delivery) once all envelope draw positions are sold. We expect this will be early 2022.

Don't miss this chance to own one of the rarest pieces of collectible artwork in trading card history!

On April 30th and June 25th 2022 Barrie's Kozlov Centre came alive with in person signings by three great NHL legends, and a best selling author and broadcaster. Mike Krushelnyski played with Wayne Gretzky in Edmonton and was a member of 4 Stanley Cup winning teams. Dennis Maruk is one of very few NHL players who have scored 60 goals in one season. Ken Reid wrote a book about that accomplishment, along with 4 other books that tell stories about the game and about sports card collecting. And Gary Leeman is a Stanley Cup winning 50 goal scorer!

All four of these men signed pucks, 8x10s and more during their appearance in conjunction with our Spring and early Summer 2022 Cards, Comics and Collectibles Shows.

Own one or more of these items before they are gone. You can buy these online right now! Items can be picked up in our Barrie store for no additional charge or we can contact you to arrange preferred shipping.