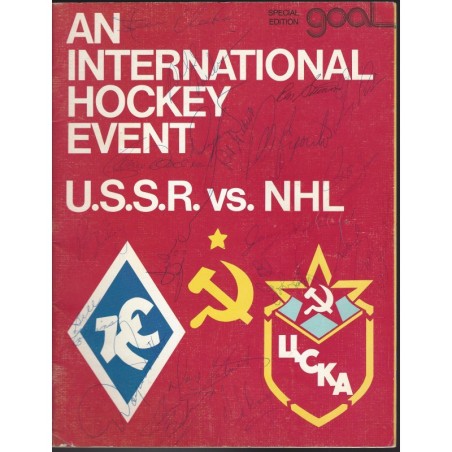  
1975-76 New York Rangers/Soviet Army Amazing Autograph & Historical Collection curated by Ron Stewart
Fans of international hockey will be pleased to add this terrific collection of memorabilia and autographs from the 1975-76 series played between the Soviet Army team and eight different NHL teams. The collection was originally collected by Ron Stewart, who was head coach of the New York Rangers at the time. The Rangers were the first team up and received a 7-3 beating at the hands of the Russians at Madison Square Garden.
Included are:
* A Goal program autographed by 19 players (18 identified and listed in an accompanying scan) from the Rangers
* An unsigned copy of the same program
* A press kit containing press releases and two 8x10 press photos of Vladislav Tretiak and Aleksandr Yakushev
* Two small team-issue Rangers photos autographed by Ron Stewart
* A small pennant and pin from the Soviet team
* A handwritten note and receipt to our consignor from Ron Stewart's son, Terry.
This collection will be accompanied by an LOA signed by noted collector Roly Harris and issued by Doug Laurie Sports.
Data sheet
Sport or Theme

Hockey

Team

New York Rangers (NHL)